Building Above Expectations
For generations, we have continued to lay the groundwork of future innovation.
Built-In Confidence
Bruns General Contracting is a third generation company with over 70 years of construction experience. Our mission is to lead the industry in quality, ethical business, social responsibility, and win-win partnerships.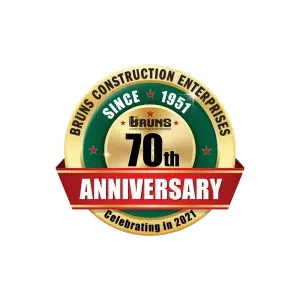 We Believe
A great company helps control customer costs, provides quality workmanship, executes with on-time completion, and employs exceptional people. Our confidence in our work is represented through our Building Maintenance and Repair Warranty; a five-year guarantee for materials and workmanship performed by Bruns General Contracting. This warranty is four years longer than any other general contracting warranty in the region. At Bruns, you'll find exceptional construction services, as well as a full-service design builder with the ultimate goal to deliver innovative projects that exceed the customers' expectations.
With over a lifetime of experience, Bruns General Contracting has a full range of premium design/build and general contracting services. Our business delivers at a level of integrity that exceeds current standards by expanding the boundaries of future innovation.
Bruns General Contracting is a 100% employee-owned company. We have developed an employee stock ownership plan (ESOP) to provide benefits for each of our employees. This plan was designed for employees to invest primarily in the stock of the sponsoring employer.
Our Services
Bruns serves a variety of markets and provides services such as new construction, building additions, renovations, and more!
Let Us Help You With:
Site Evaluation and Selection
Preliminary Planning
Architectural and Landscape Design
Budgeting, Permitting, and Pre-Construction Code Review
Construction Process-Flow Restructuring
Structural Engineering
Office Build-Outs
Land for Lease
Buildings for Lease
Build-to-Suit for Lease
Markets
We consolidate all of these services under one roof, which allows us to determine and manage our clients' costs early on during the design phase. This also gives clients greater control over the timeline and budget of the project. Learn more about each of the markets we serve below.